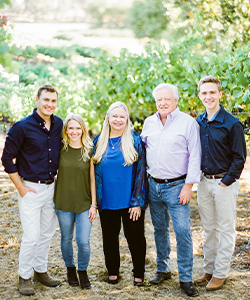 Hartford Family Winery was founded in 1994 as a result of Don and Jennifer Hartford's appreciation for the wines, the people, and the unique vineyards near their Russian River Valley home. Located in the Sonoma County town of Forestville, the winery is about 15 miles from the cool Pacific Coast.
We are located at 8075 Martinelli Road in Forestville, California. Click here for hours and directions, or call us toll free at 1-800-588-0234 for more information.
High Personality Wines
Making delicious wines of high personality is directly related to the difficult locations of our vineyard sources, the limited production of our bottlings and the varietals we use. "Character through adversity" is an expression that we believe applies to people and grapevines and surviving adversity builds character, and personality, in both.
Single Vineyard and Limited Bottlings
Hartford Family Winery specializes in making wines from single vineyard sites. In recent vintages we have made about 25 different single vineyard bottlings. Small and low-yielding vineyards deliver expressive and personality-rich wine. Our single vineyard Hartford Court Pinot Noirs and Chardonnays total as few as 93 cases, up to about 800 cases. Likewise, our Hartford Old Vine Zinfandels are produced in small quantities. Our single vineyard wines are highly allocated.
Pinot Noir
We love Pinot Noir and in many years make about 15 of them with fruit from the Russian River Valley, Sonoma Coast, Green Valley, Carneros, Anderson Valley, Marin, Sta. Rita and Oregon appellations. We feel that Pinot Noir makes the most seductive red wine, notable for its supple, silky texture. Pinot Noir is also known for expressing vineyard site characteristics in a transparent manner.
Chardonnay
Cool climate Sonoma Coast and Russian River Valley Chardonnay vineyards are singularly expressive. Those that are planted with multiple clones, specially matched to their sites, also reflect the distinctive terroir in these high-risk, high-reward locations.
Old Vine Zinfandel
Our 80-100 year old Zinfandel vineyards are irreplaceable treasures. We source our vineyard-designated Russian River Valley Zinfandels (150-500 cases) from some of the oldest Zinfandel vineyards in California. The complexity and depth of flavors from these vineyards produce the most consistently bold and unctuous Zinfandels found anywhere.
Russian River Valley Chardonnay, Pinot Noir & Zinfandel
In addition to our small vineyard-designated bottlings, we make a Russian River Chardonnay, Russian River Pinot Noir and Russian River Zinfandel that are made from a handful of vineyards each year. These Russian River Vineyard Cuvées are now found in some of the world's most prestigious restaurant retailers worldwide.