Don Hartford, President, Hartford Family Winery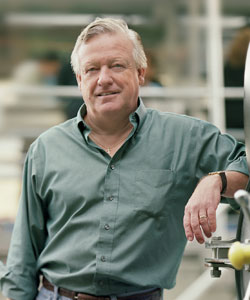 Don Hartford grew up on a small strawberry farm in western Massachusetts, and later attended the University of Massachusetts at Amherst. To cover the cost of tuition and expenses, Don worked as a "straw boss" on a cigar wrapper tobacco farm, a degreaser in a bicycle factory, and a lifeguard at Congamond Lakes in Massachusetts.
After earning a BA, Don spent a year teaching English as a second language in Spain and later taught Spanish for four years in Massachusetts. Don Hartford met his wife, Jennifer Jackson-Hartford, at Santa Clara University in Northern California in 1979. (Shortly thereafter, Jennifer's father, Jess, started a modest 16,000 case winery called Kendall-Jackson.) In 1982, he graduated from Santa Clara Law School. Don's legal career included a Tokyo law firm, a large San Francisco-based firm, Jess Jackson's practice of constitutional law, and work at the California Supreme Court. He also was a partner in a small country law partnership, and served for a time as a winery general counsel and vice president.
For more than twenty-five years, Don has been immersed in winemaking and winery management. In the process, Don has returned to one of his first loves—the land and farming. In addition, he and Jenny personally own and lead the farming of the winery's vineyards, including a small old vine Zinfandel vineyard behind their home. As president and part-owner of Hartford Family Wines (with Jennifer), Don works "hands on" at all levels of the business, including work in the vineyards, winery, marketing, hospitality and sales.
Jeff Stewart, Winemaker, Hartford Family Winery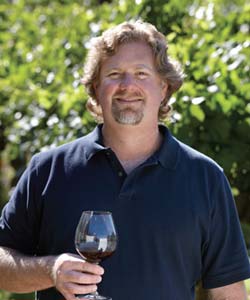 Born and raised in South Lake Tahoe, California, Jeff Stewart is, not surprisingly, an avid skier. But it was a summer trip to France and an enthusiastic chemistry teacher that enticed him away from the mountains and into winemaking.
"My summer in France was really my first experience with wine as part of the family meal. I was fascinated with the lifestyle and the importance of wine in that culture," says Hartford Family Winemaker and General Manager, Jeff Stewart. "I knew I wanted to pursue a career in science and after several conversations with my high school chemistry teacher, I was soon enrolled in the Viticulture and Enology program at UC Davis. The idea of combining agriculture, science and the creativity of making wine, something celebrated and revered in many cultures for thousands of years, was mesmerizing."
A UC Davis graduate with a degree in fermentation science, viticulture, and enology, Jeff has been making Pinot Noir, Chardonnay and old vine Zinfandel in the Russian River Valley and Sonoma County for over 25 years.