High Risk, High Reward Single Vineyard Wines
Hartford Family Winery is a family-owned winery located in the Russian River area of Sonoma County. The winery specializes in single-vineyard Pinot Noir, Chardonnay and old vine Zinfandel. The wines produced express the character of their unique vineyards.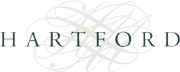 The Hartford family bottles wine labeled with two distinct marks—Hartford and Hartford Court. The Hartford Court bottlings are Pinot Noir and Chardonnay. The Hartford labeled wines are old vine Russian River Valley Zinfandel.